This week the studying we did on disciple leadership and especially on Jesus Christ: The Perfect Leader has really stood out to me.
I have been thinking a lot about my role in this world and my future vocation. I had a very spiritual experience while studying about disciple leadership and have been inspired to do something a little different with my $100 challenge AND this Holiday Season.
As a young man my mother used to read picture books to us while we laid in bed before sleeping. Each holiday season the books changed into whatever holiday was coming up next. One of my favorites was the book:
Silver Packages.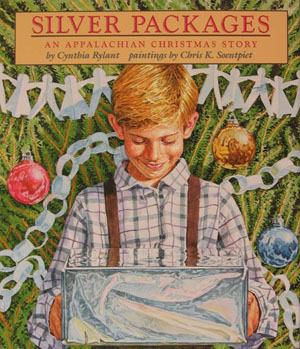 I started thinking about my Christmas experiences since being married. I have always loved the Christmas season but ever since getting married it has been a hard time of year. My sweet wife lost her mother to an accident days after Christmas. As I was reading the power point from this week one of the first slides said in essence: 'Challenged the the reader to think of what we can do to take a stand, get involved, and make a difference...' I thought about that book from my childhood and my current situation and thought to myself that my wife and I should be like the man on the train from this book. In the book there was a man who would come and give out "silver packages" each Christmas to those who were in need from the back of a train. We had been planning on going back east and I thought to myself "How much better could this trip be if it was filled with the spirit of Christmas doing service all the way to and from New York and back?" I have begun to compile a list of service activities and am going to organize my efforts to do fundraisers and collect products such as blankets and clothing and hygiene kits for various non-profit sites along the road. We are going to serve throughout all of this Christmas season. I directly believe this inspiration for this idea came from this week's homework.
As for my $100 challenge I have begun to advertise and have had some orders that have been put in for when I make the first batch of Cream Puffs.
Money Earned: $0